For more information, visit www.foryou.productions/the-great-aapi-elder-print-off.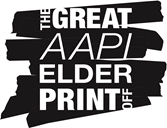 THE GREAT AAPI ELDER PRINT OFF
To date, more than 25 partnerships have been formed as part of The Great AAPI Elder Print Off, providing AAPI elders respite from social isolation and a platform to raise their voices. To see some of the posters that have been created click here.
In May of 2021, Erika Chong Shuch and Ryan Tacata, founders of For You Performance Collective and the Artists & Elders project, launched The Great AAPI Elder Print Off, in response to  growing anti-Asian hate and violent attacks against Asians across the country.  The project connected Asian American and Pacific Islander artists from across the country with socially isolated AAPI elders in the Bay Area. Each pair embarked on a relationship which included at least three connections and conversations, culminating with the artist creating an 8½" x 11" activist poster to amplify the voice of the elder.
The Great AAPI Elder Print Off's project partners include Abacus Row, Asian Art Museum, BANDALOOP, Cal Shakes, Chinese Cultural Center + 41 Ross, Chinese Historical Society of America, Crowded Fire Theatre, Dancers' Group, Jones Institute, Little Brothers Friends of the Elderly, Machina Loci, ODC, re.Riddle, SAHM Family Foundation, Shotgun Players / Ashby Stage, Theater Mu, Hugomento and Yerba Buena Center for the Arts.