LBFE's programs find our elders wherever they may be in their lives to provide meaningful, social interaction where they may not receive it. We visit homebound and lonely elders for holidays, birthdays and other events for one-on-one and small group interaction, bringing the community to them. Our more mobile elders are offered the opportunity to socialize as part of a group outside of their homes.
LBFE is committed to building community with our elders and volunteers so that they can create strong relationships and feel a part of the city they call home.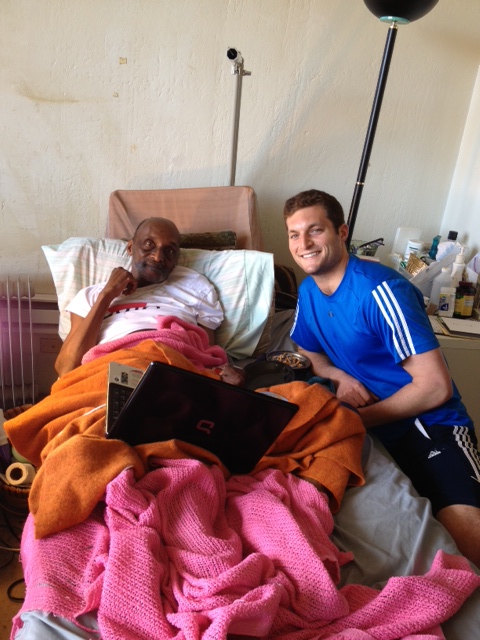 Our Visiting Volunteer program is our core program where friendships are made. With it, volunteers visit at least twice a month for at least a year long commitment.
Elders are offered someone to be their personal advocate and give them a friend with whom a relationship is formed over time based on common interests.
Visiting Volunteers serve as a personal advocate to their elder, reporting to LBFE staff of any changes in the elder or their living environment. Volunteers are offered the chance to get to know an older adult and hear of their rich life experiences and history. We offer this program to our most isolated elders. Volunteers are also encouraged to assist elders where they may need with small tasks.
Visiting Volunteers are required to undergo an orientation training in addition to a background check and additional paperwork.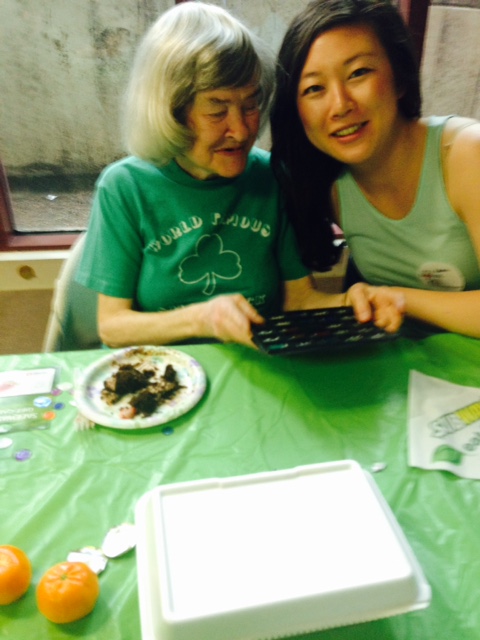 Social functions are luncheons and other social events offered to our more mobile elders that allow them to come together in a community setting to socialize with young and old alike. 
Elders are offered a healthy lunch and entertainment as they socialize with other elders and volunteers in a large group setting. This allows elders and volunteers to feel a sense of community in a safe space.  For some elders who may spend most of their days watching TV in their homes, these events give them something to look forward to, taking the time to dress up and get out of the house.
Volunteers able to drive elders either themselves or by taxi or ride share is the greatest need. We do require additional paperwork including proof of license and insurance.  There is always the need for behind the scenes volunteers as well to assist with decorating, serving and escorting elders in the building.
According to an AARP poll, 62% of seniors reported the holidays as the hardest time to spend alone. In a city where many family members live in different cities, states and countries, LBFE offers holiday visits on Thanksgiving, Christmas and five other holidays through out the year so that elders don't have to be alone. By meeting a variety of visitors from familes to canine friends, we allow our homebound elders to feel as if they are not limited to the four walls in which they live.
There is no commitment to visit an elder for a holiday and first time volunteers are encouraged to sign up. Visits last about an hour in an elder's own living space through out the city of San Francisco, whether it be a house, apartment or SRO.
We also offer birthday visits to elders. This might be the only time they get to share their special day with someone else and be reminded that their birthday still matters.
Special Excursions and Elder Day Dreams are opportunities for elders who are willing and able to get out in the city and do something new or that they may not have done in a long time. They are great opportunities to get to know an elder while sharing a common interest.
Common excursion locations are Muttville's Cuddle Club, Golden Gate Park, the DeYoung, the SF Civic Symphony, movie trips, among others. Be engaging in an Elder Day Dream, we truly see who our elders are and where their interests are, not just spending time with them at home but allowing them to enjoy the city of San Francisco as it's meant to be enjoyed -- outside.
Special Excursions usually occur on a weekday and require that volunteers are able to transport elders either in their own vehicles or a rideshare. In kind donations are also welcome so that we can continue to expand our excursion locations.
Other Programs
Eligibility is contingent on interest and eligibility for core programs listed above
Where we do not have programs, we advocate, refer and see elders through the process where needed - as a friend may do. LBFE is not a senior center or housing facility. Programs operate in different locations through out the city of San Francisco, primarily in elders' homes.
You have been so very kind to me. All of you.
Kay, 81
I already miss your loving thoughts and healing spirit.
Maritsa, 84
Thank you for everything.
Phyllis, 92
I didn't believe in heaven until I met your volunteer angels.
Priscilla, 76
You made my Christmas the best since I came to SF.
Jon, 86
I wouldn't have a social life without Little brothers. Thank you, thank you, thank you!
Jean, 83