Being a Visiting Volunteer
Friendship
Visiting volunteers visit their elders at a minimum of twice a month for at least a year. Volunteers and elders are matched based on common interests and location so that a relationship can independently and organically be formed over time.
Volunteer and elder matches traditionally become friendships over time where elders consider volunteers their friends and vice versa.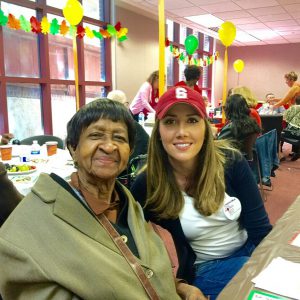 Process
Volunteers interested in the Visiting Volunteer program undergo an orientation in addition to a background check, a Confidentiality policy and a Gifts & Bequests Policy that ensures that volunteers and elders do not exchange money in any form.
This program, like all others with LBFE, are offered free of charge to volunteers and elders. Volunteers are required to be 18 years of age or older or accompanied by an adult.
A Little Extra
While at a minimum, volunteers are expected to visit, some do offer a bit more and are encouraged if there is the ability and interest. Whether it be getting an elder out of the house or assisting in picking up groceries or other small things, some volunteers supplement family and friend support where they can.
Volunteer also serve as an advocate for their elder, reporting to LBFE where there may be cause for concern whether it be with the elder or their surroundings.